(Psst: The FTC wants me to remind you that this website contains affiliate links. That means if you make a purchase from a link you click on, I might receive a small commission. This does not increase the price you'll pay for that item nor does it decrease the awesomeness of the item. ~ Daisy)
With the pandemic and unrest sweeping the globe, plane travel can be a daunting experience. Indeed, for those just looking to get away and recharge on vacation, that extra stress usually isn't worth it. However, with the bounty of roads and scenic locations available throughout the country, hitting the roads can be the perfect means to get away and find some peace.
Whether you're renting a vehicle or taking the RV out of storage, a successful road trip requires a bit of pre-planning. Here are four tips for the prepper interested in hitting the roads instead of the skies in 2022.
1. Plan your route.
Once you've determined your destination, you need to plan your route. Take a look at essential stops along your path. Be sure to plan for plenty of rest breaks. Even with the best driving posture, your body will still need to stretch and work out any kinks. Great ways to work out road trip pains include:
 

Leg stretches:

 Standing next to a support, stand on one leg and grab your other ankle, pulling it up slowly. Repeat with the other leg. This stimulates blood flow and stretches major leg muscles.

Neck stretches:

 Slowly tilt your head until one ear touches the closest shoulder. Hold for five seconds and repeat to the other side.

Walking: 

Once you're stopped, walk around for 5–10 minutes. Enjoy the sights and focus on your breathing. This will clear your mind and prepare you to get back on the road.
The excitement of picking a destination can often overshadow the necessity of planning your route. Once you've decided on a destination, though, make certain that you plan out how you're getting there.
Be sure to check construction reports, weather forecasts, and even local events. This will help alert you of any possible route restrictions, especially if you're traveling on country backroads or other roads susceptible to weather conditions. Stay on top of news reports while you're driving, as well. Knowing about changing conditions ahead of time can help keep your trip running smoothly.
Plan a couple of backup routes, just in case. If you are traveling during a rainy season or some other time of the year that can impact travel, then consider adding extra days to ensure your safety. Also, research if your route will have tolls. Having toll money before you start is a simple way to avoid any hassle on the road.
Or, simply find a route that avoids tolls. You might even come across some beautiful sights away from the major interstates.
2. Give your vehicle (whether it's a bug-out vehicle, or not) a checkup before you begin hitting the roads.
Once you've determined your route, you need to ensure your vehicle is ready for the road. Getting a flat or having engine problems is rough enough when you're near home. If you're halfway across the country, however, the situation can turn into a nightmare.
Make sure your tires are in good condition with lots of remaining tread life. You should also have a working spare and tire-changing tools, just in case. Ensure your fluid levels are in good shape. Or, take your vehicle in to your favorite auto shop and tell them you're going on a road trip. Often, they will check the fluids, brakes, lights, and even your windshield wipers.
If you're heading out in an RV, the same rules apply. Ensure your tires, fluids, and other vital components are ship-shape before heading out. If you store your RV during the off-season, then look for any storage damage, including rust, flat spots on your tires, and mold in any vents or ductwork.
Be sure to pay special attention to your carb-compliant generator, as well. Check the fluids and filters. Inspect the outlets for debris or damage. Make sure all lines and electrical cables are still shielded and wrapped, with no visible damage. Then, turn on the vehicle and let it run for a bit before heading out. You don't want to be setting up camp and find out your generator isn't working.
3. Refresh your vehicle emergency kit.
No road trip is complete without a vehicle emergency kit. Like a first-aid kit for your vehicle, a well-stocked emergency kit will keep your car patched up and running should the unexpected occur.
A well-equipped vehicle emergency kit will contain:
 

Sleeping bags

Tent

Extra clothes

Non-perishable food and water

Blankets

Lighter or other fire-starting tools

Jumper cables

Fire extinguisher

Flares and reflective triangles

Flashlight with extra batteries

Extra car cell phone chargers or charging docks

Basic tool kit (this should have multi-headed screwdrivers, socket and regular wrenches, pliers, electrical wire tape, and a voltmeter, among other items)

Jack and tire tool or lug-nut wrench

Cat litter or sand (for better tire traction)

Paper map of your travel area
With these items, you can stay safe and prepared even if your vehicle breaks down. Adjust your kit appropriately if you're traveling to areas with an increased chance of danger, such as a desert in the summer or mountains during the snow season. Consider extra water or blankets, for example.
You should also keep a list of emergency contact numbers within your vehicle emergency kit. As well, include any other copies of essential documents, such as for health conditions and travel and auto insurance. Always have a backup.
(You should check out our free QUICKSTART Guide to emergency evacuations while you're building this kit. )
 4. Build a virus-conscious first-aid travel kit.
No road trip is complete without a first-aid kit, and as the world has shifted over the past few years, so should our first-aid expectations.
Base your first-aid needs on the trip itself. If you are hiking or kayaking, you may want extra painkillers, antibacterial ointment, and even wound care. If you'll be spending many nights camping, don't forget to load up on the bug sprays and anti-itch creams.
In addition to these, a well-stocked first-aid kit will include:
 

Multiple face masks or face coverings

Disposable rubber, latex, or nitrile gloves

Disinfecting wipes in large and small packages

Hand sanitizer in large and small bottles

Rubbing alcohol

Chemically-resistant spray bottles

Anti-bacterial medicines

Small, sealable plastic bags

Clean canvas tote bags

Trash bags

Tweezers

Gauze, bandages, and splints
Staying safe on the road doesn't have to be a challenge. Preparing ahead of time ensures that you'll be ready for any unforeseen issue.
Final thoughts on hitting the roads in 2022

Embrace the road trip for this year's vacation. International travel is posing a headache across the globe. Avoid the hectic stress, and pick one of the many excellent destinations you can reach via your own vehicle.
Remember, though, to plan your route beforehand, including possible road closures, weather events, and even rest areas. Ensure your vehicle or RV is road-safe before heading out. Lastly, restock your vehicle emergency and first-aid kits. You never know when a problem will arise, but you can be sure that you'll be prepared for it.
About Molly Barnes
Molly is a full-time writer and traveler, spending her time exploring America in her RV. When it comes to hitting the roads, Molly is an expert. You can follow her discoveries at DigitalNomadLife.org.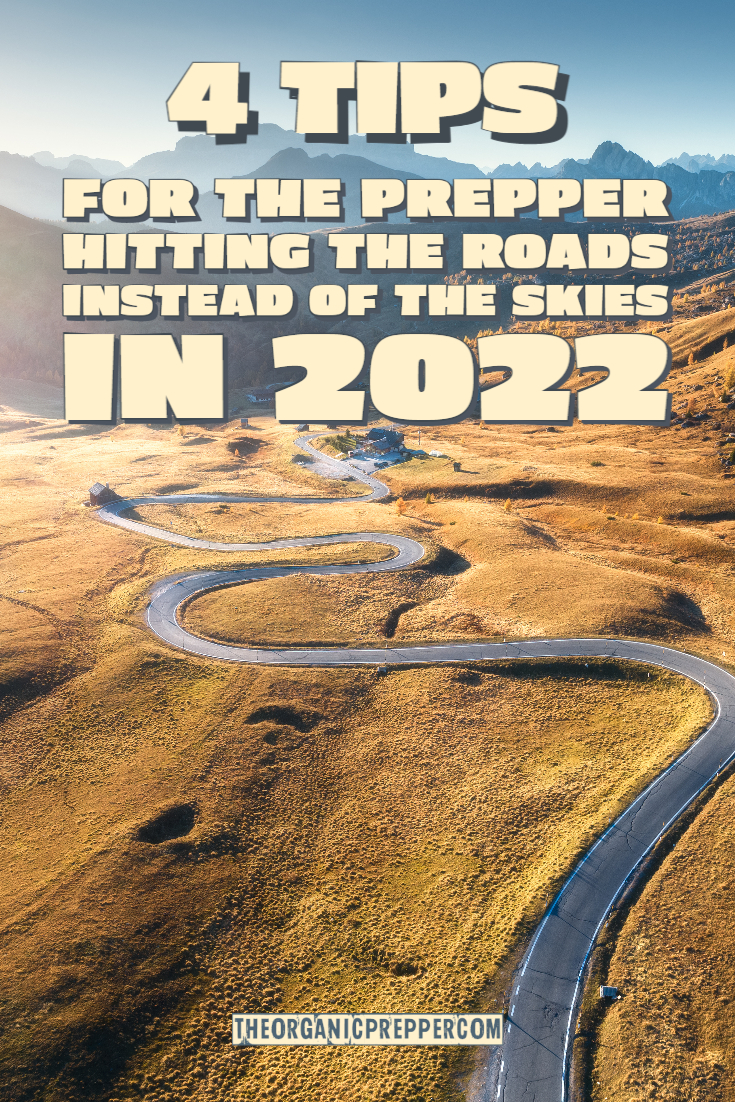 Source
4 Tips for the Prepper Hitting the Roads Instead of the Skies in 2022 – is written by Guest Contributor for www.theorganicprepper.com